Hair tools are considered a big investment for anyone. You buy a blow dryer or flat iron of the highest caliber and expect them to last years. That means people only buy hair tools once every so many years. You don't get a chance to reel in a repeat customer every single day. So, it's important to make the best first impression when you're marketing your products.
Many entrepreneurs make the mistake of assuming their hair tools labels and packaging don't matter. It's not like you're trying to rake in as many sales as possible from one customer the same way you would with skincare or bath products anyway, right?
Well, this is the wrong way of thinking. What your hair tools labels look like matters — big time. They need to be visually appealing, engaging, and informative enough to make a sale.
FLPL can help make your private label heat stylers a success by creating the best hair tools labels for you. Today, FLPL will talk about how you can create the perfect label for your hair tools — one with a careful balance of style and substance.
Why it's Important to Get the Design Right for Your Hair Tools Labels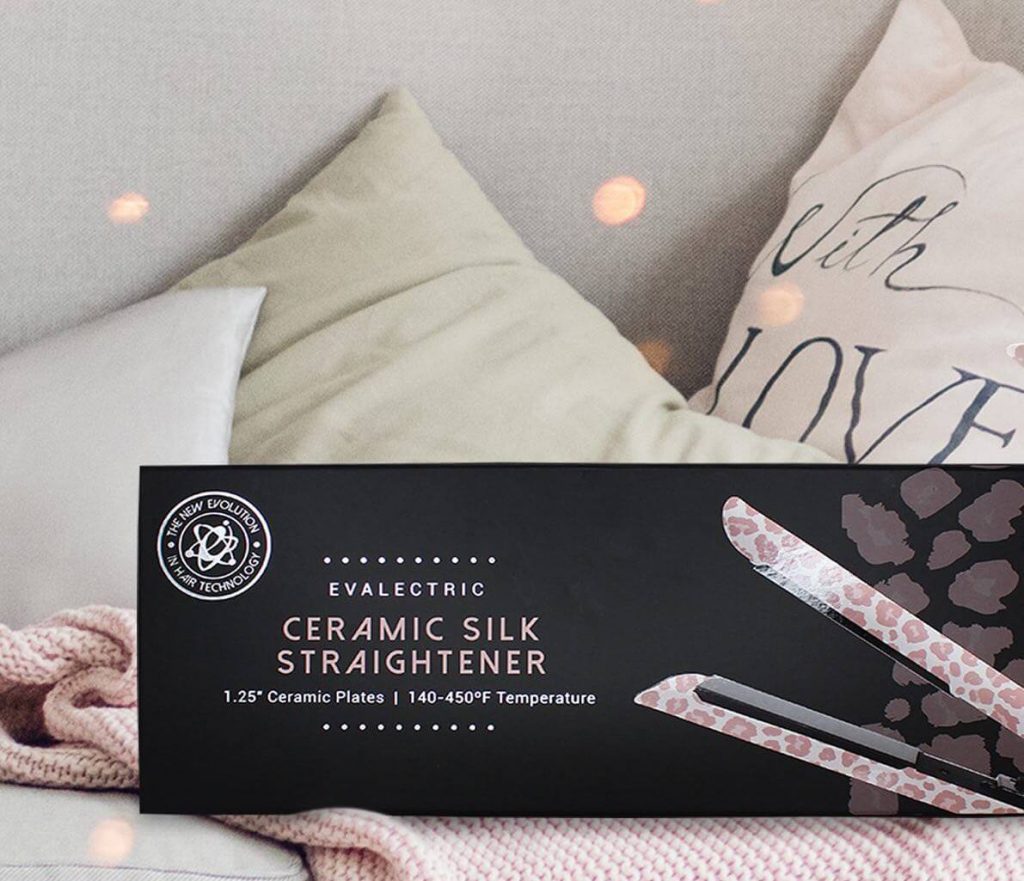 Everyone is used to seeing pretty, opulent packaging and label designs on skincare and makeup products. But creating the perfect label is a must for hair tools, too.
If there's any time to step it up in the hair tools business, it's now. The demand for manual heat stylers is skyrocketing thanks to people becoming more aware of the risks of chemical treatments. So, people prefer manually changing how their hair looks with hot tools instead of with relaxers or perms.
Plus, the hair tools market is expected to grow by 4.3 billion USD between 2021 and 2026. That's a sign that the competition between brands is about to be ruthless.
Hair tools and other hair products are a big investment, so potential buyers will thoroughly inspect and read what's on your hair tools labels before dropping their money on them. They want to make sure they're buying the best of the best, so your hair tools labels need to reflect that.
They are also quite tricky to use. It's not like everyone will know how to glide a straightening iron through their hair on the first go. So, people will likely want to learn more about how to create hairstyles with the hair tools you're selling. This should all be present on your label.
We know the basics of what needs to be on a product label. Obvious elements include the brand name, logo, and slogan. But other than those, how do you create stylish and professional hair tools labels?
Make Sure it Emulates Your Brand Personality and Color Palette
One way to get people to look at your hair tool's label right away is by making sure it reflects your brand personality right away.
Is your brand playful or serious? Feminine or masculine? Young and wild or mature and mellow? All of these should influence how things like your logo and slogan look on your label.
Your label's colors should also reflect your brand personality. If you're positioning yourself as a sleek luxury brand, go for golds, silvers, and blacks on your label. If you're trying to be fun and quirky as a brand, use loud and bright yellows and reds for that eye-catching pop of color. Use these colors as the background of your label or the color of your typeface.
Check out some cosmetics industry trends to see what colors are "in". Millennials love pastel pink, and Gen Z seems to enjoy contrasting colors, like a blue and orange combo. You might even want to research what's rumored to be the next Pantone color of the year and base your label on that.
When it comes to making your brand personality shine through in your hair tools labels, FLPL's art and marketing department can help in two ways. First, we can help you perfect your brand's overall look, aesthetic vibe, and color palette. Then, we'll translate it into a gorgeous label for your hair tools!
Showcase the Unique Things Your Brand Has to Offer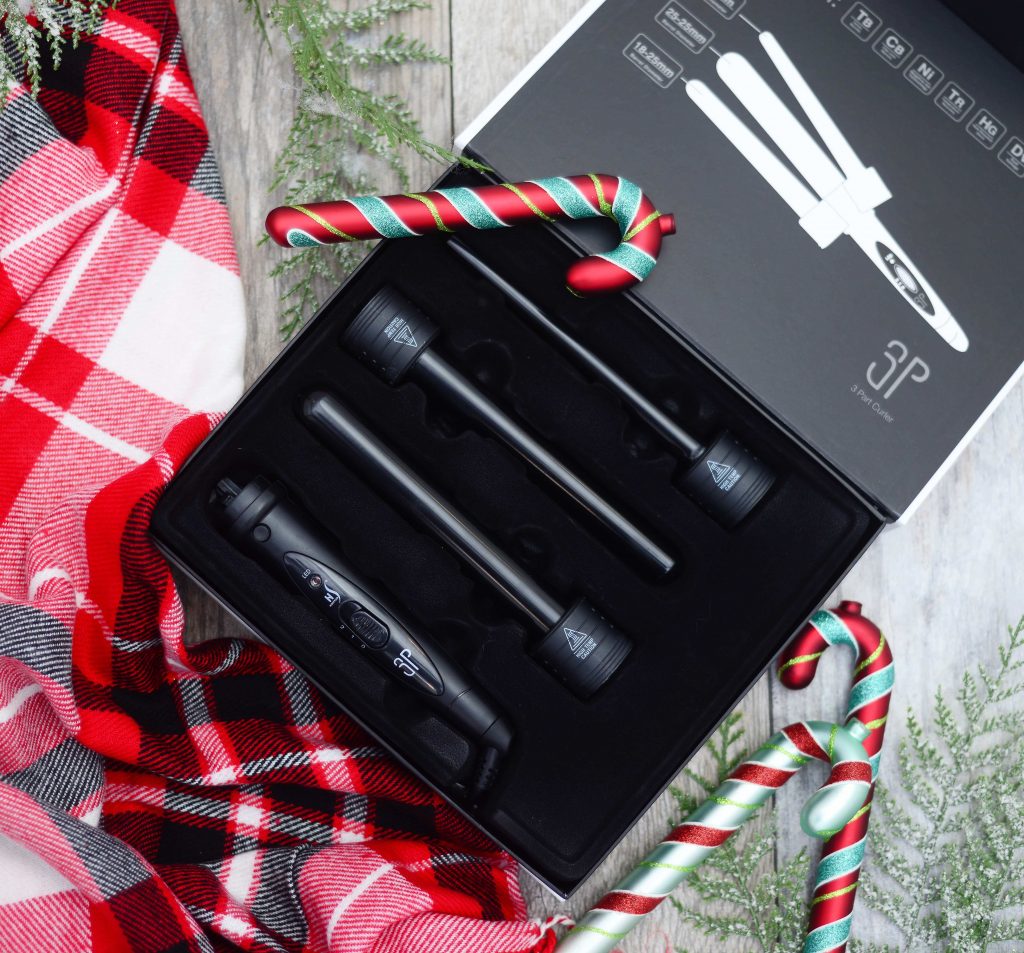 One of the biggest mistakes you can make when private labeling hair products is not doing anything to stand out. There are so many big brands out there that specialize in hairstyling tools. If your customer doesn't know what you do differently, they're never going to notice you.
That's why it's imperative to make sure you inform your customer about what makes you different from the competition. You can easily do that by writing down all your unique selling propositions (aka special features your competitors likely don't have) on your hair tools labels.
A common myth about private labeling hair tools is that every product that comes from the same manufacturer will be the same. Shampoos and conditioners will all have the same ingredients, and flat irons and blow dryers will have the same features.
But that's not true at all. As the owner of a proprietary private label brand, you can design your hair tools to be unique and have features that can knock out the competition. Then, write them all down on your hair tools labels so your customer sees them right away.
Here are just some examples of unique selling propositions you can include in your hair tools labels:
Made with ceramic plates, which are much gentler on the hair
Emits negative ion technology that smoothens your locks
Has a 360 cord so you don't twist any wires!
Made in the USA — a terrific unique selling proposition if you're targeting patriotic Americans!
Get Creative With Your Product Descriptions
Aside from placing your brand's slogan underneath the name of the product you're selling, get a little more experimental and adventurous by adding unique descriptions for each hair tool.
Describing your product with a witty, engaging one-line can excite the consumer and get them more interested. It's also an opportunity to tell them more about your product and what it does. In skincare and hair care, this is usually where you'd mention the key ingredient. But since hair tools don't have any ingredients, you'll have to hype up the experience of hairstyling with your tools instead.
For example, for the product label of mini-sized straightening irons, say a charming line or two about the portable flat iron as their secret weapon to looking good while traveling all over the world.
If you have hair tools with fun prints and intricate designs, product descriptions can be creative, too. One with cheetah or zebra prints can have a description about going on new adventures, while tools with a feminine lace print can have a one-liner that leans more toward the romantic, sensual side.
Again, this is something the FLPL art and marketing team can help out with. (As you can probably already tell by now, having an art team is one of the most important things to look for when choosing a private label manufacturer!)
Include Reminders, Warnings, and Directions for Use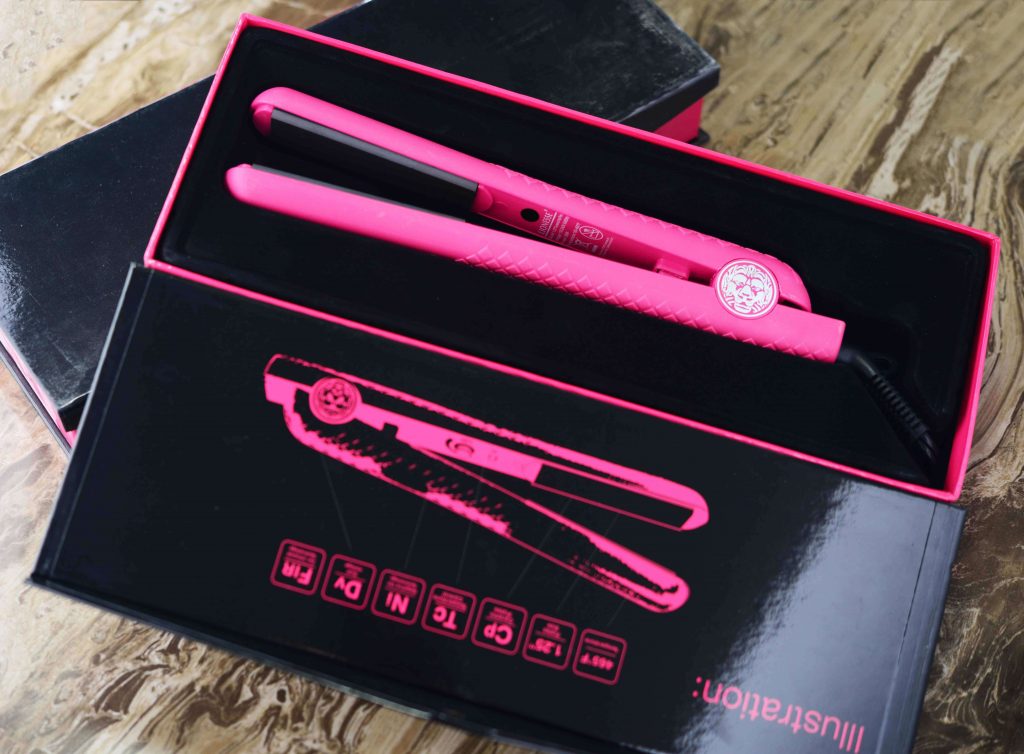 It's important to remember that while hair tools are gaining popularity, they aren't easy to use when you're a first-timer. Some people hold a flat iron for the first time and have no idea what to do. You need to foolproof your hair tools labels by adding directions on how to use each tool.
Even if it's as simple as telling them to plug in the device, adjusting the heat setting, and waiting a few seconds for the tool to heat up, don't skip it. There's no such thing as overexplaining when it comes to hair tools that some customers might not be familiar with.
Include special directions for hair tools with unique features, like say, how to switch to different barrels when using your brand's curling wand.
On your hair tool's product label, you should also include all the necessary reminders and warnings to ensure the safety of every customer, beginners especially.
For example, studies have shown that using a scorching hot iron on wet hair can lead to "bubble hair," which ends up causing damage and dryness in your locks. So, on your straightening iron products, make sure the label warns users not to use the tool on sopping wet hair.
You might also want to include additional information on how to clean the hair tools, or how to store them after use.
Provide Engaging, Educational Content on the Box
But the information on your hair tools labels doesn't always have to be technical and — dare we say it — boring. You can always add more engaging, entertaining content on your product's label to make it more fun to read. Just make sure the content you include is still relevant to your brand or the hair tool you're selling.
For example, add a few reminders for hair care at the back of your label. Make a list of tips on how to pamper the hair if it's getting too dry from heat styling. Suggest fun ways to hydrate the hair, like using a deep conditioner once a week or DIY-ing a hair mask from kitchen ingredients.
Here are other creative content ideas you can include on your product's label for a bit of extra excitement and oomph:
Fun facts about different kinds of flat iron materials, from ceramic to titanium
Graphics showing what kind of hairstyles they can achieve with the hair tool
The ways your company is trying to be more eco-friendly
Since all of these ideas are more of "additional" content, put it in the back and reserve the front area of the label for more important information.
Recommend Other Products That the Hair Tools Pair Well With
Make suggestions about other products your brand has that would pair nicely with the hot tools you're selling. There are two types of hair products that would be perfect for this — styling products and beauty accessories.
First, let's talk about styling products. Technically, styling products should fall into the category of hair care, since they're meant to protect your hair from damage as you style it. These include heat protectants, hairspray, leave-in conditioner, and so on.
If your brand carries products like this, suggest to the customer to buy them alongside the hair tool they're currently holding. It's a great way to get them to try more items in your collection!
Then, we also have beauty accessories. Things like combs, hot tool holders, and blow dryer stands can help make your styling experience a lot easier. If you have some of these products in your line-up, make sure to recommend them to the customer on your label as well.
Bonus Tip: For Your Packaging, Think Out of the Box —Literally!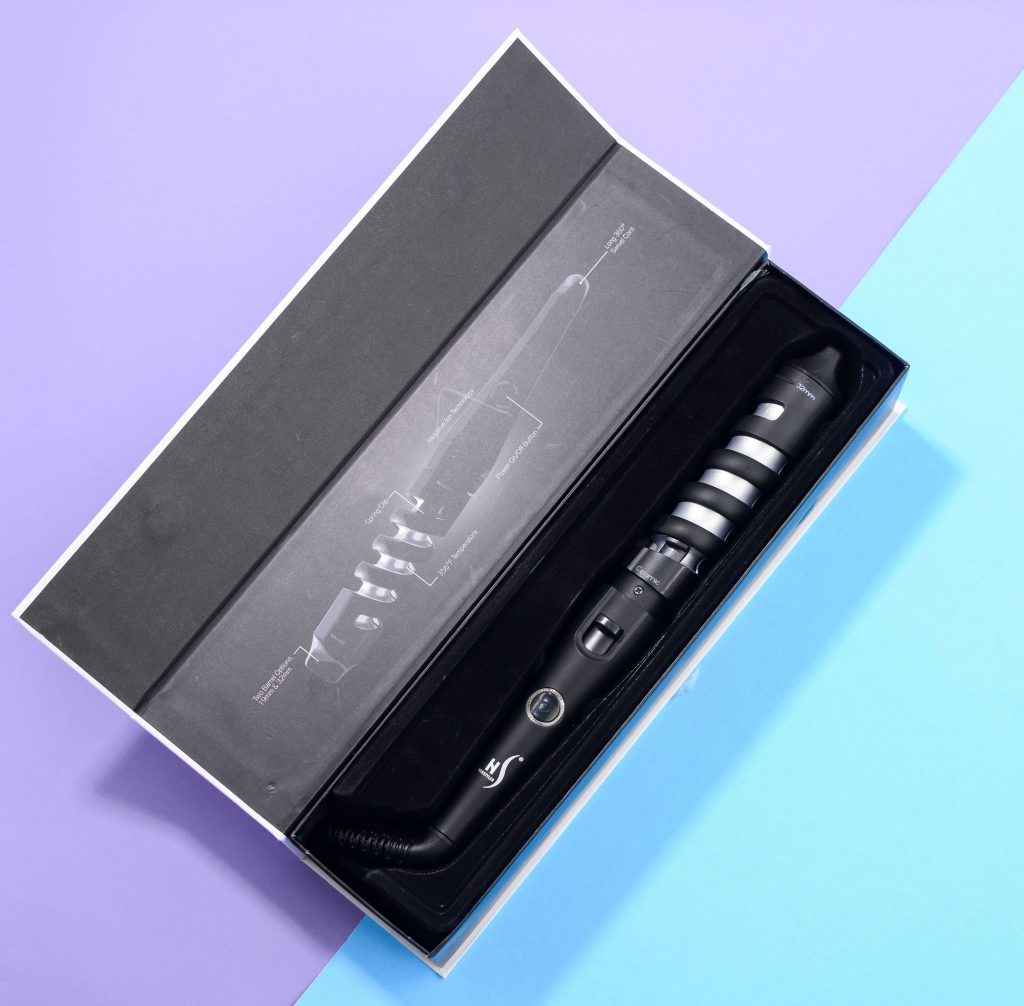 Your product's label and packaging go hand in hand. After all, your packaging is where your label will go. If you have unattractive packaging, your effort to make your label engaging and visually appealing will go to waste.
In the cosmetics industry, packaging is considered a branding tool. It's a way to market yourself and make your customer feel special. So, try, as much as possible, to get innovative with your hair tools' packaging.
Instead of the usual cardboard box, go with heavier, more luxurious-looking cases lined with velvet. Make sure the hair tools sit snugly in the case instead of moving around in a loose box.
Conclusion
Hair tools are growing in popularity among those who want to experiment with their hair textures and styles daily. And because people don't buy hair tools frequently, you need to stand out when they're only in the market for them every few years. The best way to do that is to create attractive, engaging hair tools labels.
Hopefully, our tips above will help you out when you start brainstorming for how you want your hair tools labels to look. Make sure you highlight your product's features and brand personality on the label. And don't be afraid to get creative with the information and descriptions you display on your packaging.
Interesting in working with FLPL to perfect your hair tool's label? Contact us so we can have a chat about it today!