Self-care used to be all about makeup and skincare. But in recent years, quarantine culture has forced all of us to stay indoors as much as possible. People wear less makeup now and focus on other ways to pamper themselves. And one of those is a bath and body care.
Bath and body care products are a huge trend right now. As a result, there's no better time to jump on the bandwagon and build your self-care empire with them today. Whether it's scrubs, lotions, or shaving tools, there's no better way to encourage customers to care for themselves and their bodies.
Of course, you can't just select private label bath and body care products on a whim. You have to do your research to ensure that your products are relevant to people's behaviors today. Here are seven trending bath and body care products that are sure to have a place in every customer's heart.
1. Hand Cream is Now a Must in the New Normal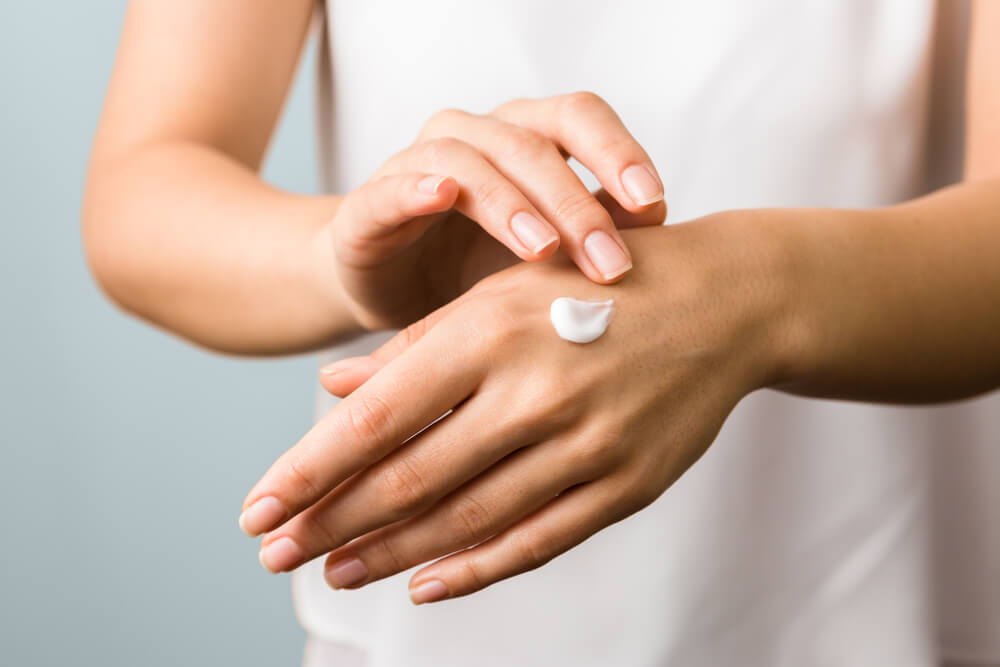 Since the pandemic started early last year, we've been told to keep washing our hands for at least 20 seconds to protect us against germs and bacteria. This is great for staying healthy, but you can't ignore the fact that it leaves us with dehydrated skin in our hands.
The same goes for using alcohol. We're always using alcohol to disinfect our hands nowadays, especially when we're out. As a result, many people are left with dry hands. There's a need for hand creams in everyone's bag now to replenish the lost moisture and make their skin soft and touchable again.
Dermatologists say that the best way to use hand creams is to apply them immediately after washing your hands. Lightly pat your hands dry, so that they're still damp. Then, use hand cream to moisturize your hands to lock in all the moisture.
That makes hand creams better than basic lotions. Because they're creamy, they're more emollient and moisturizing, making them the perfect combatant to dehydrated skin. When manufacturing hand creams, include nourishing ingredients like shea butter, coconut oil, avocado oil, and more.
2. Body Butter is Essential for Dry Skin in the Wintertime
As we jump into wintertime, people will start noticing more and more skin issues. These can range from dehydration to flakiness to more frequent eczema flare-ups. This is because the skin gets dry during the winter, and one of the best ways to hydrate it again is with body butter.
Body butter is a must during the colder months. It's kind of like a moisturizer for your entire body. On top of that, it's a trendy product. Online searches for body butter have increased by 9.4% since last year. It's also one of the most-searched body care terms today.
There are a plethora of benefits a body butter can provide. It moisturizes and seals hydration into your skin, leaving it soft and plump. It also leaves a glowing radiance on your complexion so that it doesn't look flat and dull.
It's a terrific private label bath and body care product to look into if you want to target people with dry and sensitive skin as your main customer base. It's soothing, moisturizing, and can even keep the skin looking younger.
Body butter is one of the most sought-after private label bath and body care products out there. And if you partner with FLPL, you can get creative with the blends you produce, with everything from matcha to citrus body butters available.
3. Exfoliating with Lush Scrubs will Brighten the Complexion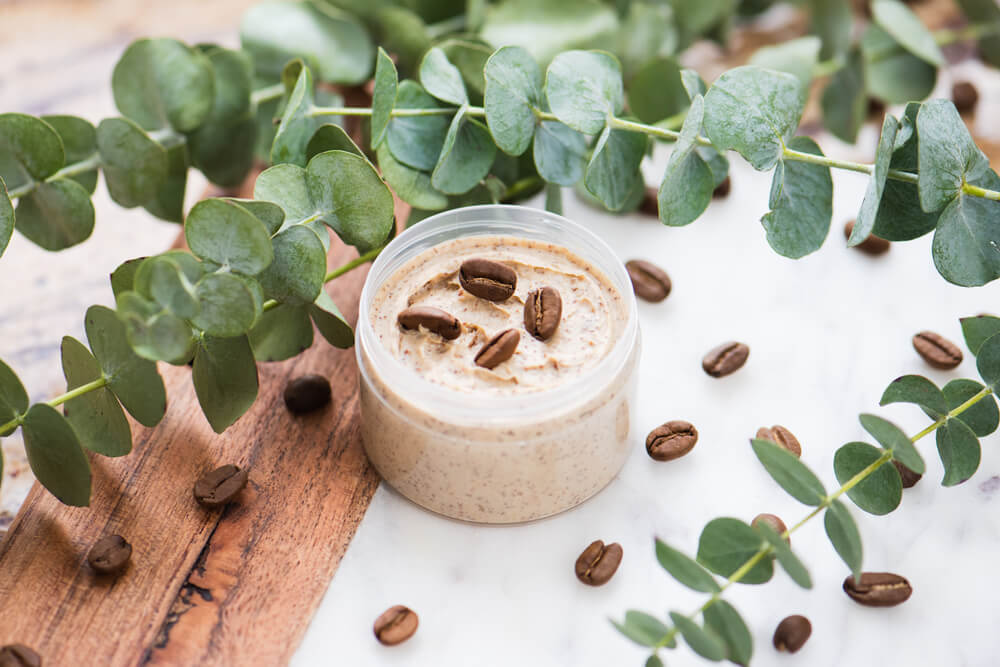 Body scrubs have plenty of skin benefits, from rubbing off dead skin cells to brightening the complexion. It's a classic skincare product made stylish again by the younger generation, thanks to TikTok bath and body care trends. They're considered must-haves for any deep cleansing bath.
If you're going to add body scrubs to your arsenal of private label bath and body care products, make sure you formulate them to be friendly to the skin and never super abrasive to it. Infuse them with nourishing ingredients, like coconut or argan oil. That way, your customers get a deep cleanse while keeping their skin moisturized.
You can market these body scrubs as they usually are, which is to help buff away dead cells and flakes on the skin for a smoother complexion. But you can go above and beyond that and inform customers that exfoliating allows your skin to absorb body butter and lotion better too.
There are many types of body scrubs you can carry. With FLPL, you can choose between plenty of scrub types, including but not limited to espresso coffee scrubs, salt scrubs, and mineral mud scrubs.
4. Artisanal Soaps with Botanical Ingredients are All the Rage
Soaps may sound boring to some people. They may see it as just a basic, essential bath item with no style. But if you look closely at bath and body care trends, you'll find that bar soaps are having some sort of "renaissance" in the world of personal care.
Although the soap market has been steadily declining in sales in the last decade, it suddenly spiked and grew by 6.5% in 2020 and continues to go higher today. This is on the one hand directly related to body care being a huge trend in 2021, but it's also because soaps are becoming more sophisticated and artisanal.
Trendy DIY soaps are formulated with organic ingredients like goat's milk and botanical oils. Some of them even have oats, seeds, or flowers embedded into them for extra exfoliation. They clean your skin and are super cute in your bathroom too.
Soaps are useful for literally anyone, so it's not difficult to market as a budding businessperson. It would make a terrific addition to your line of private label bath and body care items.
5. Body Oils Give You a Glow from Head to Toe
Give your customers an extra glow from head to toe with nice, lightweight body oil. A more chic alternative to lotions and body butter, body oils can give your skin a radiant glow without being overly greasy on the skin. They hydrate the complexion deeply, giving you a healthy sheen.
This is a terrific product to market under your private label brand if you stand for organic, natural ingredients, like plant oils. You can get creative and formulate your own signature body oil blend with gorgeous, lightweight oils, like argan, grapeseed, and jojoba oils, plus aromatic essential extracts.
6. Bath Bombs for a Luxurious Spa Experience at Home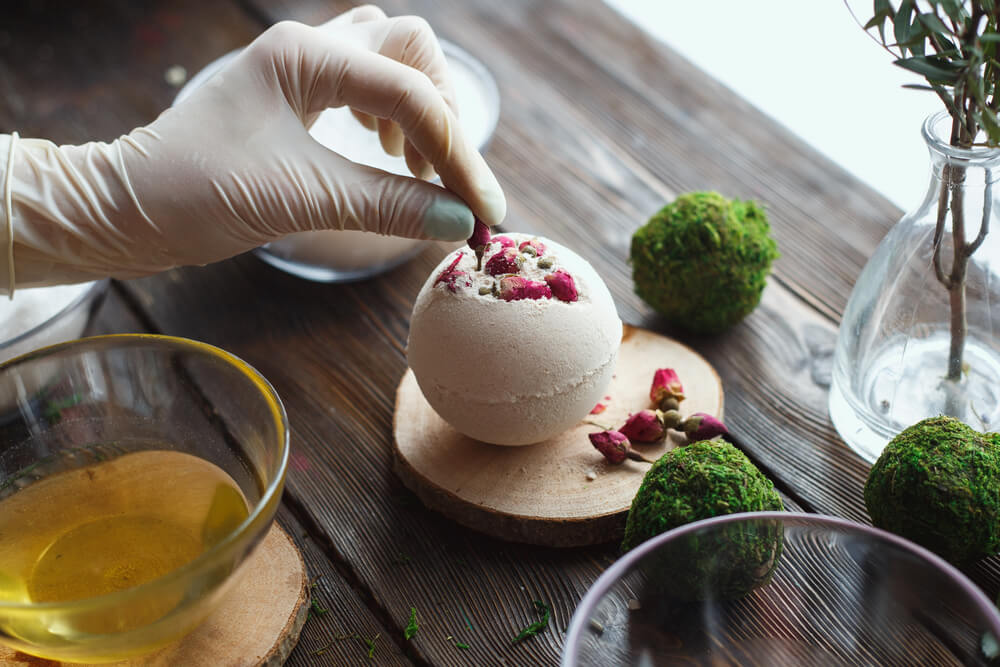 If you want a luxurious, sweet-smelling, Instagrammable bath in your tub, bath bombs will be your best friend. These cute and colorful little "bombs" are easy to use. Just drop them into your tub filled with water and watch them "explode" into different colors and designs. At the same time, they'll turn your water soapy.
You probably first heard of bath bombs years back when they first came out. They're still a pretty popular product today, thanks to soothing "bathscaping" clips on TikTok that often use the hashtag #bathbomb and garner millions of views each day.
Bath bombs are infused with ingredients that are good for your skin, like nourishing oils that condition your complexion as you wash it. They make it even more soothing to soak in the tub, so you can market it as a treat at the end of a long working day.
7. Men's Grooming and Shaving Products are Experiencing an Industry Boom
Last but not least, we have grooming products for men. Younger men of today are more comfortable with pampering themselves with body care products. That's why products like shaving creams, beard oils, and waxes for facials are all the rage now.
In a survey, it was found that 75% of men feel more confident in themselves when they groom their facial hair and beards. This goes in line with the idea that Millennials are more focused on how they look and present themselves in front of others.
Grooming for men is not so much a trend as it is a whole new culture that is here to stay now that men are more comfortable and open about it. It's a terrific niche segment to tap into if you want to target the male demographic with your private label business.
Bath and Body is a Huge Part of Personal Care Today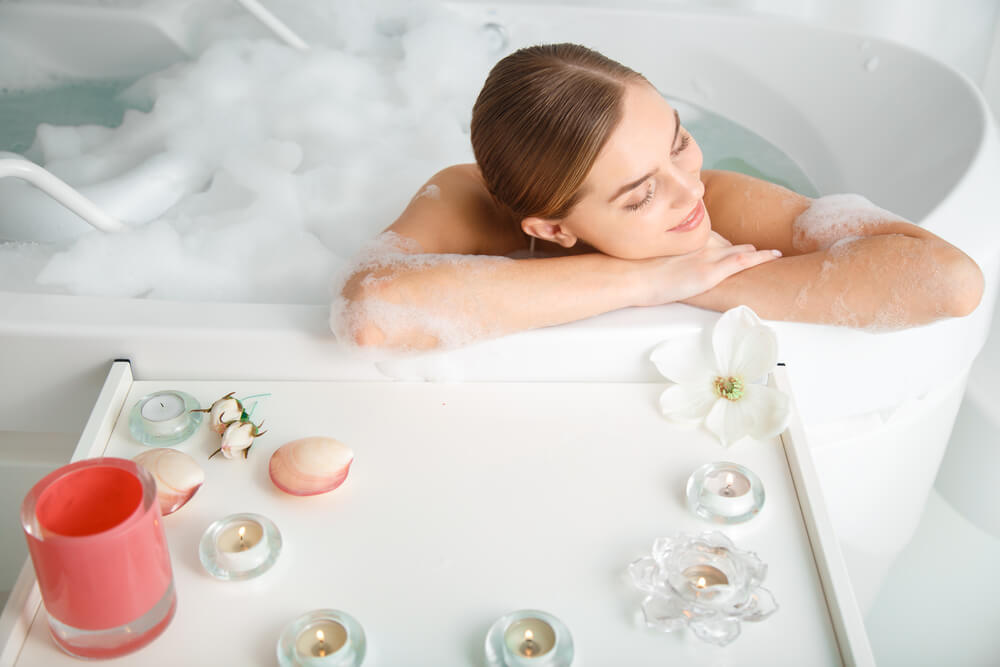 When people say skincare, it's easy to assume that all it means is caring for the skin on your face — making sure it has no wrinkles and is hydrated properly for a healthy dewiness. But our skin is the largest organ in our body. It spans from head to toe, and you must care for all of it.
So, it comes as no surprise that body care products are booming. Sales for body care products like lotions, foot scrubs, and hand creams have been skyrocketing, driving the growth of the personal care and beauty industries.
Why People Prioritize Bath and Body Care
One explanation is that people have been home a lot more since the pandemic started. They can no longer go to spas or unwind by having a fun night out. So instead, they recreate the luxurious experience in their bathtub with soothing bath salts and products that help them relax.
Another reason why people might be more excited to get into bath and body care is the realization that the skin on the body can age too. Mature women tend to care more about their neck and decolletage when it feels like their skin is starting to loosen up and sag.
Many people turn to fancy treatments like cellulite removal and skin-tightening lasers to pamper their skin. But sometimes, it doesn't have to be that complicated. A good body butter or even just a nice shower gel is enough to rejuvenate your skin from head to toe after a long day.
Work with FLPL to Build Your Bath and Body Business from the Ground Up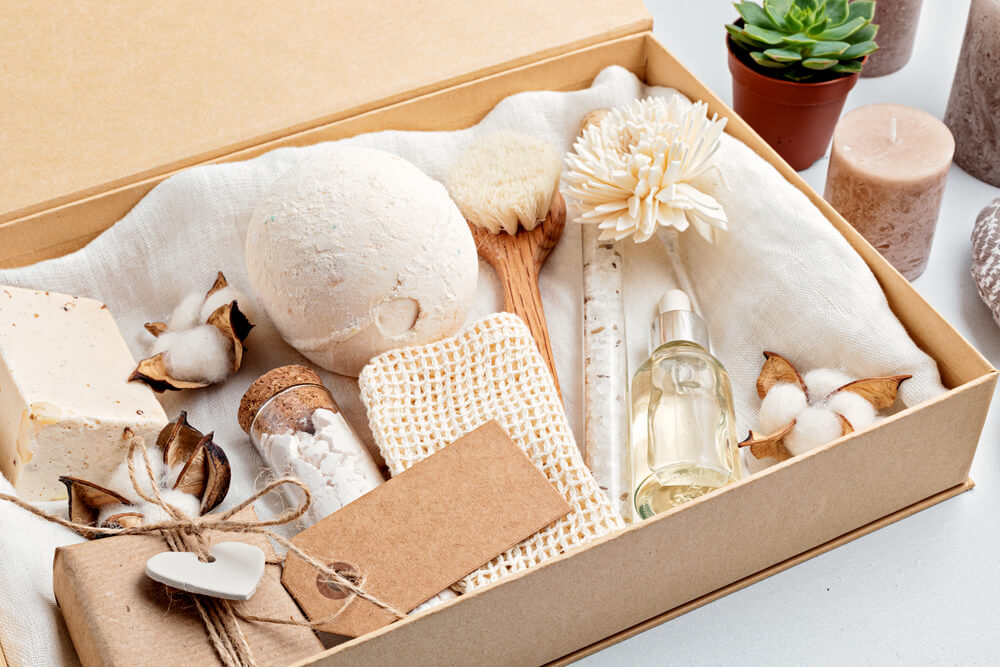 To manufacture the best private label bath and body care with the highest level of quality, you need to partner up with a private labeling company that has a lot of experience with beauty and personal care. FLPL is one of those.
Here are FLPL, our R&D team strives to help you design and brainstorm the private label bath and body care products you want. For years, we've worked with high-end beauty brands, so we're well-versed in what it takes to create the perfect bath and body products.
Then, our design team creates a look that will reflect your brand vision and the value you want to give to others. We can also lend a hand when it comes to importing your goods. Our logistics arm can handle the deliveries to our warehouse, where we can store your products until you're ready for ship-out.
So, not only do you get an experienced and dedicated team working on your private label bath and body care brand, but you get extra help when it comes to marketing and logistics too!
Conclusion
From soaps to shaving creams to exfoliating scrubs, bath and body care products are terrific for making you feel relaxed and pampered. Make sure every product you put out in your new private label business is designed to do exactly that.
As long as you pick a product that's trending and will sell like hotcakes, your new private label bath and body care business is set to launch with flying colors. The seven products listed above are in high demand, so if you want to launch flagship bath and body items, any of them will be a good bet.