Just a few years ago, most, if not all, personal care products were related only to beauty, skincare, and toiletries. But today, the category is also a source of products and services for holistic wellness, mental healthcare, and sweet relaxation.
That's why trends like aromatherapy and bath care have flown successfully — everyone wants to try out the hottest new products and ingredients that are terrific for both the skin and one's mental state. Products like these have been on the rise, especially amid the stress of the pandemic.
One ingredient that seems to always come up because of all this is CBD, or cannabidiol. It's known for its calming properties and ability to manage pain and stress. But did you know that it also makes for a terrific skincare ingredient?
Today, FLPL will let you in on why you might want to consider private labeling CBD products in your beauty label. We'll also share six key things you must know before doing so.
First, What is CBD?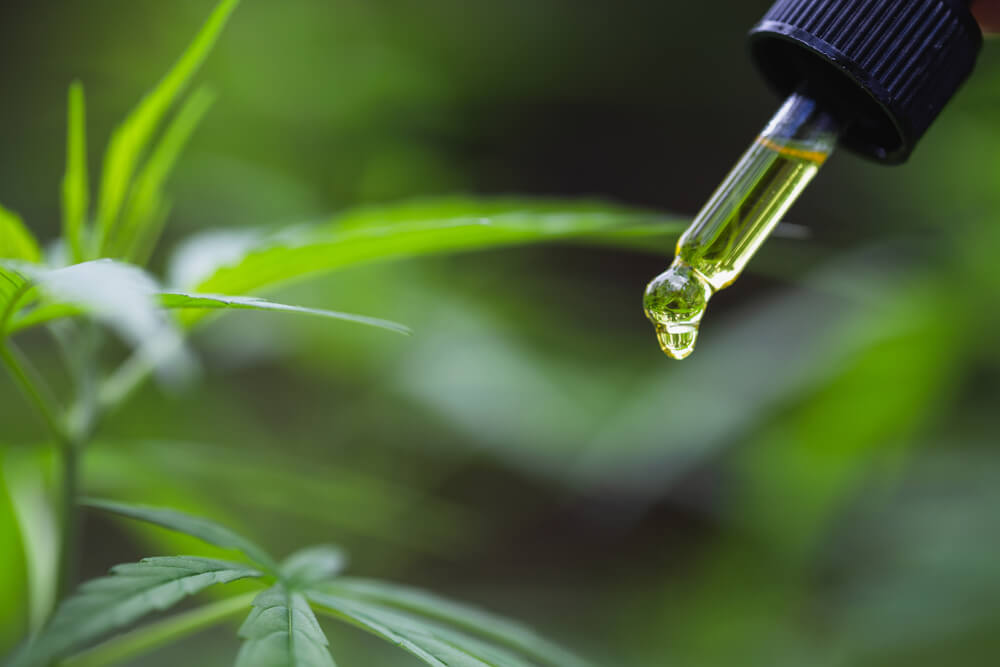 It seems like CBD is taking the world by storm, especially when it comes to young companies branching out to unique, novelty products. There are cannabidiol tablets, gummies, and even chocolate bars. It's even starting to penetrate the world of skincare. But what exactly is CBD and why do so many people swear by it?
CBD, also known as "cannabidiol," is a type of cannabinoid you can find in cannabis and hemp plants. But don't panic! CBD doesn't have the substances from the cannabis plant that cause psychoactive effects. So, using CBD-infused products (or even pure CBD oil) won't get you high.
Many people use CBD tinctures and supplements to manage muscle pain and high stress levels. Why? Because it has components in it that relax the body and mind. But more than that, it's also full of antioxidants and skin-loving nutrients that make it a wonderful addition to your private label beauty products.
For example, it's known to have anti-inflammatory properties to calm down irritated skin. It helps reduce redness and swelling in those with active breakouts or flare-ups from eczema or psoriasis. It has even been shown to be quite helpful with minimizing and fading acne scars later on.
CBD has other benefits too, like sufficient hydration, regulation of sebum production of the skin, and delaying skin aging, but more on those later.
Needless to say, private labeling CBD products is perfect if you want your beauty and skincare goods to target a wide range of skin concerns.
Why Start Private Labeling CBD Products for Your Business?
CBD is becoming more and more popular by the day. There are so many skincare brands already jumping on the CBD bandwagon and slowly gaining recognition for it. So if you're thinking about private labeling CBD products, it's time to ride the trend before it's too late.
But any businessperson will have to admit that CBD is a relatively difficult product ingredient to handle. It isn't like one coconut oil or honey, or any of the more common superfoods that you can work with in your kitchen making small batches of soaps or hair care products.
You need to be able to source CBD correctly to get the highest quality available. You'll also have to go through safety standards and the best quality control methods to ensure you have effective products. That's where private labeling comes in.
For one thing, private labeling CBD products allows you to work with a team of research and development experts that are more knowledgeable than you about cannabidiol. This is a must when working with a tricky ingredient that isn't quite mainstream yet. That way, only proper CBD formulations designed by the best chemists and beauty product engineers will hit your shelves.
At FLPL, we'll even make sure that your CBD products are produced only in an FDA-approved warehouse. We're big on quality and safety, so your products will go through stringent processes and tests to ensure your CBD products are excellent and never half-baked.
Convinced about private labeling CBD products for your beauty brand? Hold on just a minute! There's still a lot to know about the art of private labeling CBD products. Here are six key things you must understand before jumping headfirst into your new business venture:
1. You Can Incorporate CBD Into a Wide Range of Beauty Products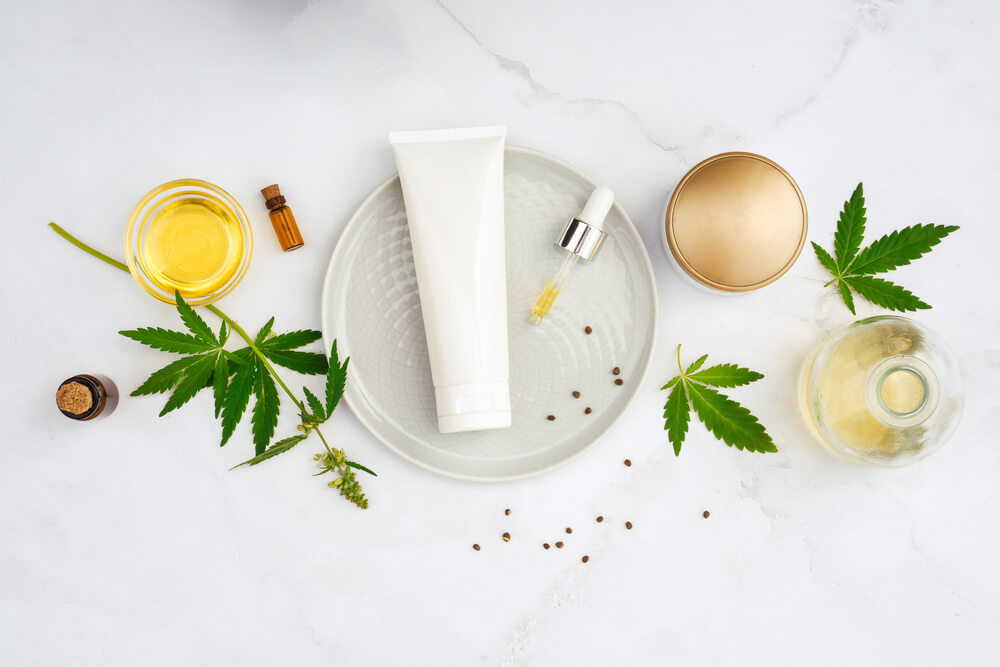 Let's start on a high note, shall we? You may know CBD as the active ingredient of very niche products, like vape pods or oil tinctures. Because of that, it's easy to assume that you have limited options for private labeling CBD products related to beauty.
But the good news is that there are tons of ways you can do it, mostly in facial skincare. Why skincare? The answer is simple: cannabidiol has so many skincare benefits.
The most popular of these benefits are CBD's anti-inflammatory properties. When CBD is applied to the skin topically, it can interact with the receptors in your body that sound the alarm for an anti-inflammatory response and calm them down. That means the redness and flare-ups will go down.
Another wonderful benefit of CBD is boosting skin elasticity, which has a positive impact on the delay of skin aging. CBD is also packed with antioxidants that protect your skin from oxidative damage that can cause wrinkles and fine lines on the face.
The most common way to use CBD in skincare is to infuse it in moisturizers and creams. This is because CBD, especially when seeped into an oil, can be very hydrating for dry and cracked skin.
To give your customers the full benefits of CBD, you can also formulate a potent serum. That way, people can experience the magic of CBD in its purest, most concentrated form possible.
But CBD is good not only for the face but for the rest of your body too. Remember, the skin is the largest organ we have. These areas are also susceptible to aging, so you can't neglect the skin you have from the neck down.
That's why you should also consider incorporating CBD in body care, like lotions and scrubs. You can help your customers maintain taut skin from head to toe!
2. CBD is Plant-Based and 100% Vegan
At the risk of sounding painfully obvious, you must also remember that CBD is plant-based and vegan.
Why is that important? Because the demand for vegan and clean beauty products has been growing exponentially in the last few years. It's no longer considered a niche market, since even bigger, more established brands in the mainstream are selling them.
Beauty enthusiasts today try to be well-informed about sustainability and animal cruelty. They're against anything that can harm mother nature, including animals. So, they find it compelling when the beauty products they shop for are aligned with these ethics.
CBD is 100% plant-based, so it's perfect for those living a vegan lifestyle. Use this to your advantage by putting it front and center in your packaging and promo materials. A private label partner like FLPL can help you out with that.
3. CBD is Getting More and More Popular, So Standing Out is a Must
An important thing to keep in mind is that while CBD is somewhat of a unique ingredient in the skincare world today, it's not going to stay like that forever. Business experts forecast that it's going to get way bigger. From a $4.6 billion market in 2020, it's expected to jump to a $20 billion one two to three years from now.
This spells a lot of competition for you if you ever want to get into private labeling CBD products. Because of that, standing out is non-negotiable.
The good news is that there are plenty of things you can do to stand out, from making better packaging than your biggest competitor brands to targeting a very specific niche market. The CBD skincare market is young, so there's a lot you can play around with to set yourself apart from other labels.
Be unique. Study what your competitors are doing and go a different route. If other brands sound too scientific and medicinal to target long-time CBD users, have a friendlier, more approachable brand voice to speak to a younger demographic who might still be afraid to try CBD products.
4. Some People Are Still Intimidated by CBD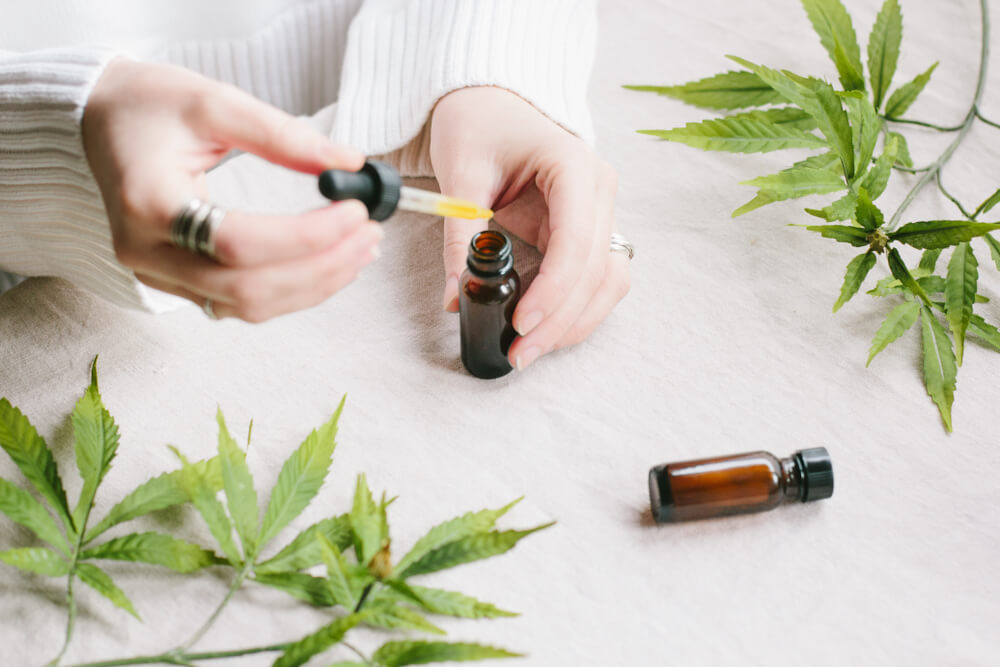 When private labeling CBD products, you have to be ready for a few upturned noses. Many people won't care for CBD, especially because some people may still think it's controversial to use. But there's always a way around this if you put in the effort.
Around 26% of Americans believe that marijuana and CBD are one and the same. One way to get potential customers more comfortable about trying CBD skincare is by explaining to them what CBD is. It's not illegal and won't get them high — they're just getting the skin benefits from the cannabis plant.
There are a bunch of other misconceptions about CBD too, like how using CBD products will show up on random drug tests. It would be to your advantage to get the story straight about what CBD is and isn't to build more confidence not just in CBD, but also in your private label brand.
Try to target a younger market for your brand, as they might be more open-minded about it.
5. Many of Your Customers Might be First-Time Users of CBD Products
The silver lining is that many people are very curious about CBD. According to a survey, 40% of adults are interested in trying out CBD for the first time.
Leverage on this enthusiasm and excitement by positioning your brand as a newbie-friendly skincare company. Be a place where they get to learn more about CBD and experience it firsthand without feeling like they've been lagging behind this trend.
But with great power comes a huge responsibility as well. If your target audience will be CBD newbies, it's important to teach them how to patch test CBD skincare products. If it's their first time using CBD on their skin, there might be unexpected reactions, so always encourage patch testing once they receive your products.
6. Each State Has Different Laws Regarding the Use of CBD
Perhaps the biggest challenge when it comes to private labeling CBD products is learning about the federal laws surrounding the industry. Because it was technically illegal to use or sell CBD products just a few years ago, you might consider the ingredient to be in a gray area.
The laws differ from state to state. States that have legalized marijuana also allow the use of CBD products, since it comes from an ingredient that doesn't even cause a high. But it gets trickier with states that have not legalized medical marijuana but accept the use of CBD-infused goods.
For example, in more progressive states like California and Pennsylvania, both marijuana and CBD products are completely legal. But for say, Wisconsin, being caught in possession of CBD products can lead to a misdemeanor or will at least require a doctor's certificate.
But don't let these laws scare you away from private labeling CBD products. Just do your due diligence and educate yourself about what's legal and what isn't wherever you want to hold your business.
Make sure you abide by the laws of your state, no questions asked. The last thing you want is for your new private label CBD skincare brand to be caught up in controversy and legalities.
Conclusion
It's undeniable that CBD is a lucrative ingredient to play around with in your private label beauty business. Plus, it has tons of benefits for the skin — including keeping acne at bay and managing the appearance of wrinkles and deep lines. This makes it a terrific star ingredient in your products.
But while it continues to grow in popularity in many different industries, it still relies on developments when it comes to legalities and acceptance of many Americans. It can be a bit scary thinking of private labeling CBD products, but remember that there is so much potential for a business hinged on it.
At the end of the day, the hallmark of a true businessperson is the ability to take on risks to reap the benefits in the long term. So, if you're bold and daring enough, and have a passion for innovation and plant-based resources, private labeling CBD products is definitely for you.
Want to find out more? Click here to get in touch with FLPL.