What is a Private Label?
With the latest in business innovation, we now offer the opportunity for you to have your own private label. This program allows you to personalize a unique line with formulas and packaging that fit your targeted clientele. Choose the products you believe in, control your online reputation and create your own marketing strategies.
The Process: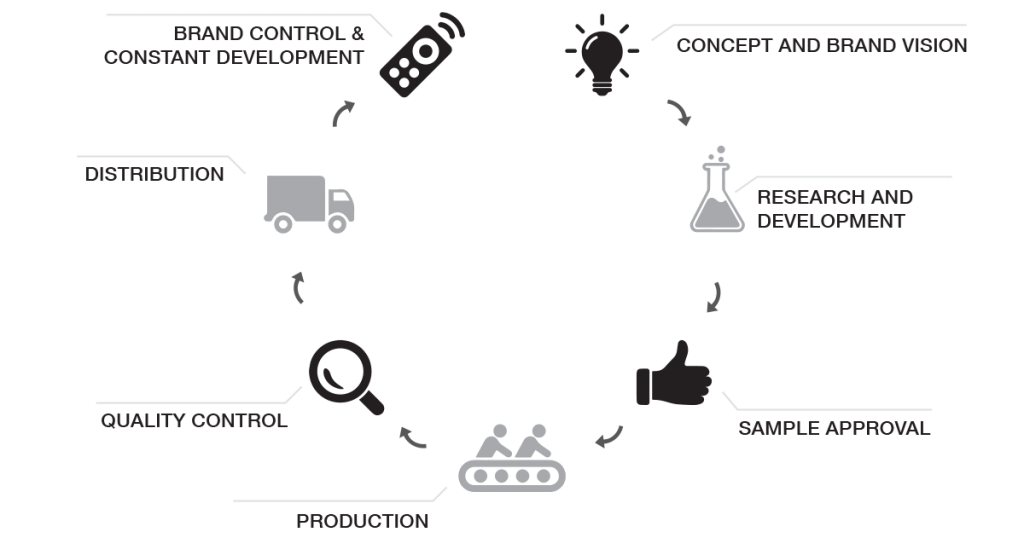 FLPL's process is carefully designed to be meticulous, yet simple:
Starting with a concept and brand vision we collect as much information possible about the brand, its existing or intended target market, ideal MSRP, distribution means and other information that defines what a product should represent. This information is then separated into two parallel departments:
The research and development department designs the preliminary physical product, using its expertise, latest innovation and a wide-array of resources available to FLPL, namely real-market experience, to ensure need-fulfillment, differentiation, and ease of use.
The art & marketing department creates a rendering of the final product, utilizing the initial information collected and the specifications of the product from R&D.
After seeing the life-like rendering, FLPL manufactures a sample product and packaging. The sample is the final product. before it is mass produced – this stage means you are very close to having your product!
Production begins! One of the highest values of working with FLPL is ordering a meticulously supervised product during the entire production process.
Maintaining a strict quality control by certified engineers, regardless of the country of manufacturing, our in-house production supervisors make sure your products are being manufactured to the highest standards.
Once the product has been manufactured and packed, it is delivered to FLPL's Los Angeles warehouse and can be shipped or picked up.
After you've distributed your new product to your desired locations, you have a precise, intelligent system to keep track of your merchandise, and catch unwanted reselling of your branded product.
Marketing and product claims:
Your private label is more than just a group of products that compliment one another.
Our private label program includes working together with a team of experienced brand developers that will help:
Define your brand character
Design your packaging
Create the product content for the packaging including (if applicable) substantial claims such as:

Product Development
Our experienced product development team works closely with you during the R&D process to help you design products that best fit your market goals.
Formulators and designers all come together to create the perfect product for you according to your specifications.
Packaging: We offer different packaging designs you can choose from. Our packaging options were all tested in the real market and proven in quality. The options include glass, acrylic and plastic components as well as cardboard and carton paper boxes.
QC: One of the most important values in working with us is ordering a product that is being meticulously supervised during the entire production process, ensuring a strict quality control by certified engineers. Regardless of the country of manufacturing our in-house production supervisors make sure your products are being manufactured to the highest standards.
International Registration: Set up all required documentation and database entries for certification purposes worldwide.
Formulations & Ingredients: Years of experience in the skin care industry infused into new, unique and popular formulas.
GMP: Our labs follow the regulations of the current Good Manufacturing Practices.
Quality Guaranteed: Testing done on stability & quality of the formulas for each batch.
Laboratory Tested

Compatibility/Stability Testing
Microbiological Analysis Testing
Safety and Toxicology Testing
* FDA & EPA Registered Facility: Our products are manufactured
in FDA registered facilities and equipped with solar and green
technology.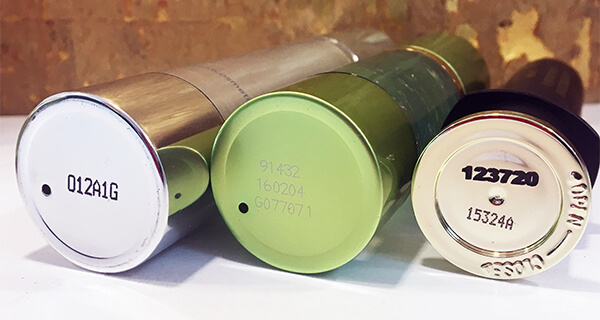 Laser Coding helps you protect your brand
Utilizing the newest technology, all your products are laser coded to help you track them in the most efficient way- by date, invoice and client name.
This advanced tracking system is essential to prevent unauthorized sellers from cutting into your profit.